The Queensland Government, led by Queensland Health, continues to work closely with the Australian Government and other agencies to manage the outbreak of coronavirus (COVID-19).
If you have arrived in or returned to Australia in the last 14 days and are feeling unwell, see a doctor immediately.
Please check Queensland Health COVID-19 for the latest health advice including FAQs and self-quarantine information. The Australian Federal Department of Health also provides information regarding COVID-19.
Schools status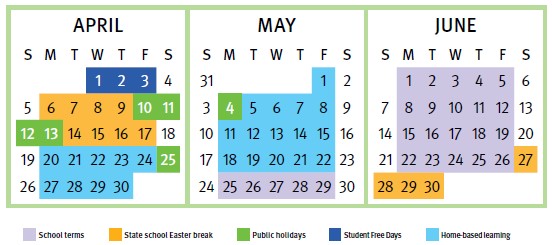 The Term 1 break will begin on Monday 30 March 2020 for all state school students.
Five student free days have been declared for Monday 30 March – Friday 3 April 2020.
Staff of state schools and community kindergartens will begin their Term 1 break on Monday, 6 April. Schools will reopen to students and staff on Monday, 20 April 2020 unless health authorities advise otherwise.
During the period 30 March to 3 April, schools will continue to provide a program of care and supervision for children of essential workers.
For students at home, teaching and learning resources are available through the department's learning@home website.
Frequently asked questions have been developed for further information.
Australian Government COVID-19 regulations
Travel restrictions
Any non-citizens or residents are banned from travelling to Australia.
All Australians are advised not to travel at this time.
Anyone arriving in Australian must self-quarantine for 14 days from their arrival in Australia.
Anyone who has been in close contact with a confirmed case of COVID-19 and is feeling well must self-quarantine for 14 days from the date of last contact.
Mass gatherings
Social distancing is a key element of the containment strategy for COVID-19.
Non-essential indoor gatherings of greater than 100 people will no longer be permitted from Wednesday 18 March 2020.
Non-essential outdoor gatherings of more than 500 people are not permitted.
Advice for supporting student health and wellbeing: Coronavirus fact sheet for parents.
General hygiene
Practising good hand and respiratory hygiene may help protect against infections. Cover your mouth and nose when coughing and sneezing with a tissue, or cough into your elbow, dispose of the tissue into a bin and then wash your hands afterwards. Wash your hands regularly, after using the toilet, and before eating.